Roaming Photographers and Onsite Printing
Awesome Photo Booths isn't just about booths. We provide professional photography solutions and can cover several events and functions. You can book our event photographers for your weddings, product launches, parties, corporate events, etc. Unlike other photographers, we don't wait for you to pose or plaster an awkward smile on your face. We believe that people Roaming-Photographers-internallook their best when they're not focused on the camera.
Our roaming photographers have a keen eye and a knack of finding the best angles and lighting, to deliver truly stunning candid photographs. We can capture your guests when they're in their element and natural, when they're smiling or laughing freely, without being conscious of the camera lens. These photographs always turn out to be the best pictures of the event.
They showcase just how much fun your friends, family, colleagues or clients had at the event. Our roaming photographers capture interactions, discussions and conversations, giving your pictures a different life. This is perhaps the best way to preserve memories.
And it's not limited to personal events. At business events, we can click candid pictures of your guest speakers and important clients. We can also take pictures of customers interacting with your products or personnel. These images can be great promotional tools, especially if you share them with your guests and connects across different social networking platforms.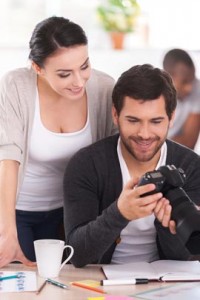 Instagram Printers – A Unique Idea
You can also give your guests hard copies of the pictures. We can set up an onsite printing station at your event. That way, you can have instant hard copies for great images at any time. Roaming-Photographer1You can add these photographs to your personal collection or use them in your business.
We can also customize the print-outs, adding your contact details, logos and branding to the pictures. That's a great way to promote your business as well. Your guests and potential clients can take those photos and always have a reminder that they attended your memorable event.
With Awesome Photo Booth, you don't need to worry about the quality of the images. We use the best and latest onsite printing technology. The photos have clarity and proper focus. You can get them in 6×4 or 6×8 sizes. If you're hosting a red carpet event, wedding, school formals, corporate functions or gala dinners, you'll love this service. For more information, call us at 0421 786 963.